The History And Mystery Of Ley Lines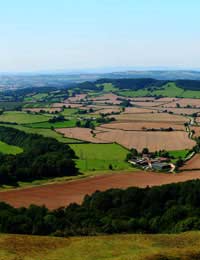 Mystical lines of energy crisscross the surface of planet Earth along which at various points are built structures of significance. Burial mounds, major roadways of antiquity, temples, landmarks and city gates are thus connected, the choice for their location made perhaps unconsciously by men guided by the spirit of Gaia. This is the general idea behind the Ley Line Myth, built upon the backs of a much more secular idea from a reasonable man.
The Ley Line Myth
The idea of mystical pathways of power traversing the planet has quite an appeal to new age practitioners, magicians, writers and more. Exactly what the power source is for these ley lines, how they are arranged and why they are arranged the way they are is up for some debate, depending on which group you talk to. Some of the more popular myths include the spirit of Mother Earth traveling ley lines and interacting with those fated to cross her path all over the planet, highways and byways for UFOs and other extraterrestrial visitors, random paths of spell energy pointed to by Chaos magicians as proof of their theories, and the tracks left across the planet by travelers from other dimensions; as for the writers, they use all of these ideas and plenty of their own that spring up from the fertile ley line idea.
The origin of the Ley Line Myth
The beginnings of all of these myths came about innocently enough- an amateur archeologist and fan of aerial surveying by the name of Alfred Watkins is responsible both for the expression "ley line" and for popularizing the concept, but there was nothing supernatural about his theories.
Studying survey maps of his beloved English countryside, Watkins had an epiphany (the flash of inspiration that some will alter credit to mystical insight in support of their own ley line ideas). To Watkins it became clear that many significant landmarks and ancient trade routes all lined up in what appeared to be purposeful geometric order. His first discovery came during a visit to the countryside when he noticed that many footpaths linked one hill top to another. This thought coalesced into theory when studying a map of the area, and the alignment of various landmarks became clear.
Despite never attaching a supernatural significance to his theory, the idea that ancient peoples either consciously or unconsciously aligned important landmarks—cross culturally—was met with disdain by fellow archeologists. Watkins was credited as a reasoned man excited about an idea, and he even wrote a book on the subject, called "The Old Straight Track." The book, like his speeches and other attempts to get the idea of ley lines across to his contemporaries, was panned.
It did, however, serve to get the idea of ley lines out to the public, which latched on to it eagerly. It was not long before Watkins' idea of purposeful arraignment of monuments and other important structures and paths of travel became an ancient, mystical myth.
Final Thoughts
It is interesting to note that the idea that burial mounts, foot paths, ancient trade routes, cities, temples and the like across the planet line up here and there is not what is disputed. The arraignment is apparent in many cases to any who take the time to look- it is the idea that there is some significance and myth to these ley lines beyond the mundane that is discarded.
You might also like...