The Vanishing Hitchhiker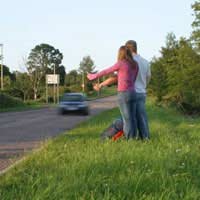 We tend to associate ghosts with ancient castles or creepy, crumbling graveyards, and we usually expect them to appear at night. It can be especially jarring therefore when, instead of lingering in their usual haunts, the ghosts come to us, sometimes during the day, invading our personal space and displaying an apparently complete familiarity with our modern technology. Yet these are the characteristics usually displayed by the Vanishing Hitchhiker, a popular urban legend.
The Hitchhiker is Picked Up
The basic format of the Vanishing Hitchhiker story is simple. You are travelling along in your car. By the side of the road you see some unfortunate-looking person thumbing for a lift and decide to take pity on them. They enter the car, and usually choose to sit in the rear rather than the front, perhaps even insisting on this. Once inside your vehicle, they chat away, for the most part seeming perfectly normal, exchanging details of their personal history with you, none of which usually strike you as anything out of the ordinary. There may be an item exchange at some point. Perhaps the hitchhiker's hands are cold, and you offer some gloves to help them stay warm. Or the hitchhiker may show you an antiquated gold watch, perhaps a family heirloom handed down through the generations.
The Hitchhiker Vanishes
Then it ends – usually in an instant. Often the hitchhiker will say or do something unusual, then when you turn to react, you suddenly see that they are gone. Sometimes it happens more conventionally. You'll pop into a garage to pay for some petrol and come out to find the hitchhiker gone. In a few cases, the hitchhiker even gets off temporarily somewhere, promising to return in a few minutes, but fails to do so.
Some versions of the story have the hitchhiker intervening in a crucial way, perhaps to avert an accident for example. Occasionally, the hitchhiker makes a prediction or two before leaving. If there are two predictions, usually one is about something small and trivial, and the other is about something important. Often the trivial one is confirmed quickly, lending a new ominous credibility to the important one.
The Explanation
Once the hitchhiker has vanished, a sense of strangeness overwhelms you at this point. But still you can't put the pieces together. What does it all mean? Why did they pick you? What was the purpose of relaying all that information?
Usually, it is only on arrival at your destination that the story begins to make sense. Perhaps your hosts had a son who was lost piloting an aircraft in a war, taking the family heirloom with him. But no! Your mysterious visitor left it with you in the car, and now you can return it. Or the hitchhiker left a book in the car, and you take it to the address written inside, only to find that the person living there is a family member, knows perfectly well who you are talking about, but tells you that their relative died three years before, often in curious circumstances which relate in some way to your own.
The Vanishing Hitchhiker – History of an Urban Legend
You might think that, with its emphasis on cars and hitchhikers, the Vanishing Hitchhiker is a uniquely modern and urban legend. But you'd be wrong. Variants of the tale have been found all over the world, stretching as far back as the 16th century, set even in rural locations. Earlier versions incorporated horses and carriages. Some versions included mystery passengers jumping uninvited onto the backs of horses and clinging onto their befuddled riders. There have also been similar tales where no vehicle was involved. In these, the mysterious stranger would simply walk along beside someone else for part of a journey.
Conclusion
Scary stories are beloved all over the world. The Vanishing Hitchhiker is a great example of how persistent the core concepts of an urban legend can be when found in different cultures, but, at the same time, how richly varied its many versions can be in their details.
You might also like...
why is there so many stories of the vanishing hitchhiker ?
sammi
- 3-Jun-19 @ 3:07 PM