Razorblades in Halloween Candy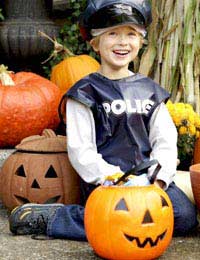 Halloween is a time for kids to collect candy…lots and lots of candy. Each and every year bags of candy are collected brought home, and dumped on the dinning room table for inspection. Moms and Dads comb through chocolates, gum, apples and taffies looking for tampering, doing their duty to protect junior from razorblades in the Halloween candy- yet another Urban Legend that turns out to be true… sort of.
The Razorblades in Halloween Candy Urban Legend
The urban legend of poison, pins, razorblades and needles finding their way inside apples and candy on Halloween is a persistent one, and an old one. Rumors of deadly treats have been floating since at least the sixties, and likely before. Apples were the first target of the rumors, and concerned parents were soon scanning the peel of the fruit looking for suspicions cuts and insertion marks before allowing their brood to feed on it.
Poison was one of the first rumors that haunted trick or treaters, and while there are countless news stories every year urging parents to beware, there have been no links to Halloween poisonings, per se. There have been some disturbed individuals who have poisoned a specific child for a diabolical purpose and then tried to use the urban legend to cover their crime, but no random poisoner has been discovered. There was a case in 1982 of a mad rash of Tyelonol poisonings that resulted in a number of deaths; while this had nothing at all to do with Halloween candy, that year was a scary one for parents and children alike.
The Origin of the Razorblades in Halloween Candy Urban Legend
There are, however, documented cases of needles, pins and other foreign objects found in Halloween candy. Fortunately there are few cases where injury has resulted, and at worst only a few stitches were involved (but which was probably pretty frightening for the victim.) Many of the reported cases of razorblades found in an apple or a pin in a Tootsie Roll may actually be cases where the child themselves have inserted the object and the reported it as "found." That is, until 2000. This year on disturbed man was found and convicted of placing foreign objects in candy and randomly distributing it with the intent to harm. Fortunately only one child was reported as being injured, and that slight.
Despite the very wide spread and infrequent occurrences of foreign objects placed in Halloween candy over the decades, it remains a popular news story come October 31st. Parents are urged to hold parties rather than take their kids trick or treating, and hospitals open up their X-Ray machines to run candy through, just to be on the safe side.
Final Thoughts
One example of this Urban Legend getting traction is in a popular "Chick Trac" from the religious publisher Jack Chick, which focuses on this urban legend exclusively. In it a coven of witches purposefully set out to injure children and drug them to use as sacrifices in a clear case of an Urban Legend gone wild.
You might also like...