Athena, Brainchild of Zeus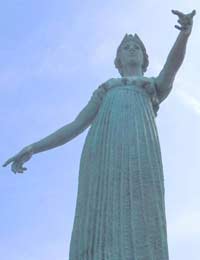 Zeus was the King of the Greek gods, ruler of Mt. Olympus, and possessor of divine wisdom; except when he wasn't. From time to time Zeus would seduce a woman - mortal or goddess - and then regret his actions when anticipating the consequences. One such woman was Metis, of whom it was said would bear children stronger then their sire. To prevent this Zeus swallowed Metis up, but it was too late; Athena had already been conceived.
While inside Zeus Metis continued to bear Athena, and delivered her. She then gave her weapons and armor and, fully grown, Athena was read to be "born." When Zeus complained of a headache that was agonizing, a fellow god (who it was varies depending on the particular myth) struck him in the head with an axe, splitting his head in twain. From the rented forehead of Zeus sprang Athena, full grown, armed and armoured, bellowing a war cry to make Gaia the Earth tremble.
Luckily for Zeus, Athena appeared to have no desire to usurp her sire; in fact, she proved to be exceedingly helpful. As the goddess of strategic warfare and wisdom, she showed many a god and hero how to overcome their various difficulties in Greek mythology. She was not above her vanity, however, squabbling with Hear and Aphrodite when Discord raised the question of which Greek goddess was the fairest one of all. Despite this Athena remained a virgin, according to most myth.
Athens Picks Athena
The myth behind the name of Athens comes from the goddess Athena. According to legend two gods were in competition to see who would get to have the city named after them, Athena and the Greek god of the sea, Poseidon. Each god offered a gift to the city, and the one who offered the better gift would win. Poseidon struck the ground with his trident, causing a spring of water to well up and flow. Athena offered the secret to growing olive trees.
After thinking it over the elders of the city chose the olive tree as the winner. While water was an excellent gift, Poseidon's domain was the sea, and the water was thus salty, limiting its usefulness. With olive trees the future Athenians would have wood, oil and food. This is how the city go the name Athens.
The Wisdom of Athena
Where Ares was the god of madness in battle, Athena was the goddess of strategy, and she showed her tactical side in the advice and help she offered the various gods and goddesses and heroes from Greek mythology. To Hercules, Jason, Odysseys and more she would offer the secrets needed to over come the challenges they faced.
The Nemean Lion would never have gotten skinned if Athena hadn't given Hercules the hint to use its own claws to carve through the super tough hide. Medusa would have claimed another victim in Perseus without her help. And as the goddess of wisdom Athena appreciated it in others. It is said that Odysseys won her favour by showing guile in a tough situation, and as a reward she helped him win back his wife after returning form his infamous voyage.
TIMELESS MYTHS IS FOR SALE.
This website is for sale [more info].
You might also like...