A Black Cat Crossing Your Path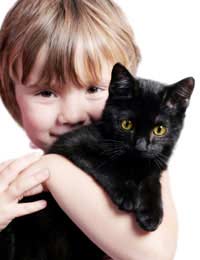 It's late and you are walking home at a brisk pace in an attempt to beat the oncoming storm. You are only a few streets from your destination when you spot a little black cat making its way towards you, angled to cross your path. Just like that you decided to risk getting a good soak rather than let the black cat cross your path, succumbing to an old superstition rooted in legends of witchcraft.
The Black Cat Superstition
Cats certainly are unique creatures. They can be soft, fuzzy and pleasant, and they can be bristling, spitting balls of razor sharp teeth and claws. Seeing a black cat is –depending on the country you are in at the time-- considered bordering on unlucky times, but having a black cat cross your path is considered by many to be an omen of doom; not only is it bad luck, it is VERY bad luck. From there the superstition goes as far as belief that the black cat is a demon in disguise trying to cut off a person's access to heaven. What would drive people to believe such malignance would come from a kitty cat?
The origin of the Black Cat Superstition
The actual origins of the black cat crossing your path superstition is a bit of a mystery, but there are a few ideas. Cat's ability to move silently and practically undetected put some people on edge, and their association with Egyptian religion added to the uneasiness in some Christian cultures. From here it was said that cats- and black cats in particular- acted as "familiars" to witches, creatures that are imbibed with an evil, otherworldly sentience that give power to their master. What God fearing Christian who believed in witches wouldn't fear them, back when such rumours began?
Cats are sneaky, clever, agile hunters with a strong streak of independence- more reasons to add them into legend and wives tales. There are a lot of superstitions centred around cats, some colour specific, some not, and some even contradict each other.
In Scotland a strange black cat appearing on your porch is an omen as well- but a good one. It means that prosperity is on the way. If you hear a cat sneeze in Italy then you are in for a streak of good luck, as you are if you dream of a white cat in America. If you happen to spot a white cat in America as the sun sets, however, you might be in trouble.
Cats are not allowed in the room if family is having a private talk in the Netherlands- the fear is that the cat will spread gossip all over town, and the family secrets will be out. Don't be too hard on the cat in Ireland, however- killing a cat there brings 17 years of bad luck.
Final Thoughts
So, a black cat crossing your path is unlucky, you say? Interestingly that is what many believe in the USA and many European countries, but that very same belief in Japan is flipped on its head- they believe it is good luck. The next time a black cat crosses your path, just say "Konichiwa" and take control of your own luck. Think black cats bring bad luck? There's a school of thought that says the same about women!
Read our feature here...
You might also like...
@None - there is nothing wrong with a black cat walking in front of your car - it's a myth. Nothing is going to happen. I <3 black cats, they're the best. I think they bring more good luck than bad.
JellyB
- 25-Jan-18 @ 10:44 AM
As I was parking my car I saw a black cat walking left in front of the car what's that supposed to mean I don't like black cats .
None
- 24-Jan-18 @ 11:51 AM
Jan 10 2018 on 29th at going with my bf to the task to drop..a black cat ran across the street in front of my be SUV what dose that post to mean
Sarita
- 12-Jan-18 @ 8:06 AM
Black car staring up into my window for no reason mmhhmm what's that supposed to mean?
Mr wong
- 31-Dec-17 @ 8:14 AM
black arent evil there god giving creechers of this planet evil is killing ppl ppl killing ppl are killers and evil demons i seen
Candy
- 20-Nov-17 @ 9:44 PM
@Insightisright - that's nice. My black cat runs to meet my car, it knows the sound of my engine. Perhaps this cat knows the sound of your engine and is coming to meet you too. Cats are quite sociable and perhaps it hasn't always been feral. Perhaps it still likes to know that human contact is near. You might be the cat's go to/favourite 'person' without realising. It might be escorting you to your home.
Suse
- 2-Nov-17 @ 2:16 PM
I have to drive down an alley way to access the parking spot I have where I live. There is this really adorable young black cat that is a feral cat and inadvertently this cat always runs ahead of me and crosses my path, whether I walk or whether I drive. The thing is I don't feel it's good luck or bad luck; I just feel like I'm meeting some aspect of myself. This may mean a part of myself that is the black sheep..or has to hide out from the mainstream.. I don't actually feel that luck is so flighty that something like a cat crossing your path actually affects your luck. I believe in Omens but this isn't a bad Omen it's the universe communicating something to me.
Insightisright
- 2-Nov-17 @ 12:50 AM
One crossed me Right to left, but to the person coming my way it passed from left to right, who was the cat for!
Guess again
- 24-Oct-17 @ 10:47 AM
@None - I love black cats. Black cats get a hard time. Even people won't take them from rescue centres because they don't photograph well for Facebook and other social media, would you believe that!
Hann
- 23-Oct-17 @ 12:57 PM
I don't believe black cats are a bad omen. They are part of this planet just like birds, fish, insects and black and white people.
None
- 22-Oct-17 @ 5:35 AM
One ran out when me where driveing
Blackcat
- 20-Oct-17 @ 6:32 PM
@MartiG - it means the car owners have a pet black cat. There is nothing more to it than that.
Noddy
- 28-Sep-17 @ 2:48 PM
Hi there, I am buying a car and i liked one ,but on one of the pictures there is a black cat?Is that mean anything or not ?
MartiG
- 26-Sep-17 @ 1:59 PM
@Laila - what happens if you live with a black cat, does that mean you have bad luck all the time. I have three and they cross my path always. Also, in some cultures black cats are seen as lucky omens. It's just a coincidence your mum died (sorry :()and a coincidence you lost your job. You shouldn't hold so much store in superstitions. We can find anything we want in anything if we want to.
Misty
- 19-Sep-17 @ 12:57 PM
Very true..i believe that when black cats cross your path..bad things can happen to you or a person you care for. This is because it happened to me twice. The first time was in 2005. I saw a black cat crossing my path for almost 6 months..as I left the supermarket...to the cinema...you name it...it freaked me out because it was almost everyday and for six months...until my mother died. Once she died I never saw a black again until in 2015. This time it was almost a year I continued to see a black cat crossing my path and in Sept 2016 I lost my job. Since then I stopped seeing a black cat. I am really afraid to have to see a black cat again...what worse then this could happen.
Laila
- 17-Sep-17 @ 4:59 PM
What does it mean when you see a black cat run right infront of you while driving and its noon. Does it mean you have bad luck that night cause we were going to get a propane tank.
Spacereaper
- 14-Sep-17 @ 1:10 AM
So I saw a black cat that apparently was trying to cross the road in front of someone. It didn't make it. So, if it is bad luck in the USA and European countries to have a black cat cross your path, does that mean if you kill it before it makes it, you now have staved off that bad luck? Ultimately the bad luck is on the cat though
Speedecr069
- 12-Aug-17 @ 9:42 PM
@Jo - it's all coincidence. The clue is in the title - it's a 'myth'. A cat has no ability to bring either bad or good luck to a person. It's a cat and a silly superstition so take no notice. Jim.
Jamesthefirst
- 20-Jun-17 @ 12:11 PM
This morning I was driving my car a black cat ran a crossed the road safely front of me. My daughter saidit's bad luck oh no is it? Worried I had enough of bad luck atm my washing machine broke down couple days ago and it's fixed now my amazing boyfriend broke up with me a month ago ..... :(
Jo
- 17-Jun-17 @ 11:00 AM
@Clint - nothing. It's a wonder you saw it! :)
Whatdoes it mean when you are driving in the middle of the night you see a Black cat
Clint
- 15-Jun-17 @ 10:40 AM
i saw a black cat in my back yard and it was horrible and i just want you guys to be careful because after that i saw a clown ghost and he tried to play with me and he watches me in my sleep and
happy
- 16-May-17 @ 8:24 PM
@Sam, black cats of a night are difficult to see. They can get into the smallest of spaces, so it might be going somewhere or between a gap you don't know even exists. Ellie
ERR
- 5-May-17 @ 12:44 PM
Sometimes at night I see a black cat run across the hallway what does that mean and there's nothing there I checked my whole apartment and there's nothing therewhat does it mean am I going crazy
what do it means when a cat crosses your path fromright to the left of you
lovejoy
- 1-May-17 @ 10:54 PM
What does it mean when a black cat crosses to the right then another right then to the left and just disappears..
Blaze
- 18-Feb-17 @ 12:40 AM
What a black cat crosses your path from the left. What dose that mean?
Raybay
- 17-Feb-17 @ 3:53 AM
@Nikki - it means your neighbour has got a black cat as a pet. It's a wonder your dog didn't chase it off......... unless they're friends :) Soph
I have seen this black cat twice. Once by a tree in my neighbors yard. I came outside let my dog out it just stopped and starred at me then 3 days later I go to the back yard and the cat is sitting in my yard starring at me. What does that mean
Nikki
- 1-Feb-17 @ 7:44 PM
@Jess - I have two black cats - I think they have brought me good luck not bad and they pass me all the time in the house and outside :) Jennie.
JLO2
- 17-Jan-17 @ 10:44 AM